This past weekend on July 4th ('Murica) Maverik Lacrosse dropped the long awaited Centrik. This is the latest and greatest from the Maverik crew and trust me when I say this, it does not disappoint.
I was lucky enough to have a Centirk HS Spec roll through my desk a couple of weeks ago and I haven't put it down since. I strung it up with some EPOCH Otter Mesh and have been slinging the rock better than ever before!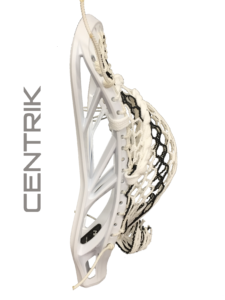 Two of the main features of the Maverik Centrik are its Level 4 Bottom Rail and the 3 Strut Sidewall Design. What these do is give the Centrik a strong sidewall made for a perfect mid pocket. Also the narrow throat adds for great ball control as well as accurate passes and shots.
One of the best things that I love about the Centrik is that it's great for both ends of the field. If you're a middie you know that more times than not you are going to get stuck down on defense, so you need you gear to be able to withstand that full field use abuse.
The Centrik is amazing for offense but it is still strong enough to take on defense. With a slightly wider scoop than it's predecessor, the Maverik Optik, the Centrik works great on ground balls and throwing some hard checks.
I used the Optik before I got my hands on the Centrik and I was happy to notice that I didn't really have to change my sidewall pattern when stringing it up. The two heads are very similar but still completely different. You can think of the Centrik as a beefed up Optik that is just as light and effective.
If you haven't noticed by now, I'm a string supporter for the Maverik Centrik but if I still haven't convinced you just stop in to any Universal Lacrosse store and see for yourself. You can also order one right now by just CLICKING HERE!
Also CLICK HERE to check out our video demonstrating the Centrik in it's GLORY!
IT' ALL U