When you are a growing offensive player, you tend to realize that certain Lacrosse heads work better for different styles of play.  Whether you are a run and gun midfielder or a shifty attackmen, you are going to need a head that works best for you.  Now no head in particular is a necessity for an offensive player, some even use a defensive head, but certain heads do work better than others.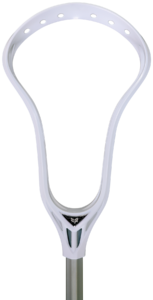 For the players that like to dodge hard and rip on the run, mostly middies, a wider offensive head is probably right for you.  Take the new Warrior Rabil 2 for example.  This head has a nice gradual pinch that helps a player get a solid channel in their pocket giving them more accuracy with their shots and passes.  With a maximum amount of stringing holes the Rabil 2 can be strung up with any kind of pocket.
Generally attackmen like to carry the ball with their stick in one hand. This kind of movement requires a head that can keep the ball secure when making short, explosive movements.  A head like the STX Surgeon 500 is designed perfectly for any attackmen.  Have a tight face shape through out the head lets the ball stay nice and secure.  A lot of times you see attackmen playing with a lower pocket to also aid in their one handed movements, but there are also players that like a higher pocket so they can have a quicker release in their stick.
Both the Rabil 2 and the Surgeon 500 have both High School and College legal versions, so no matter what level you are at, you can still use these two awesome pieces of lax equipment right here at UniversalLacrosse.com
Whether you run the midfield or dominate on the attack line, choosing the right stick is really important.  You need take notice of how you play and decide what works best for you.  Generally speaking you can string any kind of pocket in any head you want as long as you know what you are doing, but choosing the right head for you just might make the decision all the more easier.
IT'S ALL U