First of its kind: The Elite Youth Helmet
For the past 3 years, I have been fitting players of all ages in helmets. I have seen younger players wanting the newest latest and greatest helmets but usually the players head is too small. I'm very excited that Cascade has finally come out with the CS-R Helmet that not only looks great and has the newest technology but also will fit the smaller players properly. This new helmet features Poron-XRD Foam liner and a memory side foam fit that provides elite level protection for younger players.
Protection:
When compared to its predecessor, the original CS Helmet, the new liner system performs better on linear impacts. This new liner is a combination of Gen3 EPP and Poron XRD foam. Poron XRD is a pliable material and offers the maximum amount of comfort as well as elite protection for impacts sustained at the U12 levels.
Design:
With the extremely popular look of the Cascade R helmet with its fin in the back, the CS-R has the same side profile. The CS-R's FutureStar Mono R Shell is a one-piece shell and visor, sized for the youth player that creates a more rigid system to better manage frontal impact hits. The CS-R's chin piece is color matched and the 3-bar face mask is designed to be lighter and increase vision.
Proper Fit:
The upgraded Full-Pivot System is designed smaller so that the back of the helmet adjusts inward to stay snug against the back of the players head. The ear pieces have plenty of foam so that, when fitted properly, it should just touch the sides of a players face.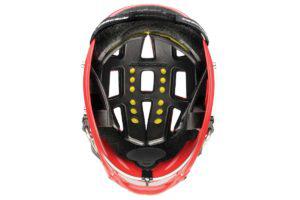 I am very excited to have another helmet option for this coming season that will fit the younger players. It can be hard when a young player sees the Cascade R or CPX-R and wants to wear it so badly to look cool but they don't quite fit into it yet…they are heartbroken. But now they can wear the Cascade CS-R and look just like the older players and still have the proper fit for their size. I've lost count of how many times younger/new players come in with wrong fitted helmets-either way too  big or way too small-but now with another option, hopefully all players will be safe.