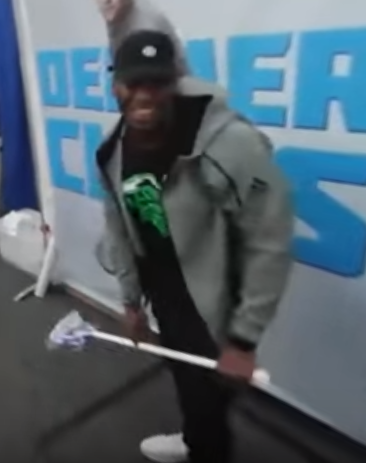 If you were able to attend Laxcon last month, hopefully you were able to stop by the East Coast Dyes booth while you were there!  The boys over at ECD never cease to amaze; and this year they did it again by introducing a White Carbon Pro Shaft to their lineup. MLL star Myles Jones even got his hands on one of these twigs and judging by that smile, I think he approves.
The Carbon Pro has been available in attack and defensive lengths but only offered in the black colorway. The wait is finally over, the White Carbon Pro is about to drop. It looks so clean, the people have spoken and ECD listened!
The White Carbon Pro will probably  become one the hottest composite shafts a player could own. The White Carbon Pro Shaft doesn't only have the cleanest look in the game, it packs one of the strongest punches too.  The tech in these sticks are designed specifically for each length for the shaft line. The kick points and flex profiles for the White Carbon Pro shafts were designed for that specific length stick; the ergonomic design provides a quicker release and more torque for quicker feeds and faster shots.
East Coast Dyes continues to advance and bring innovation to the lacrosse scene! The hype behind their newest addition,  the White Carbon Pro shaft is real! And it is now available at your local Universal Lacrosse locations or shop online at Universal Lacrosse.