Choosing your next shaft might be one of the biggest decisions you can make when it comes to taking your game to that next level. It's a decision more difficult than picking between Vineyard Vines vs. wearing a pinnie all day or continuing to grow out your flow vs. leaving it at that nice shoulder length…it's a big decision. You can't just carry around any spoon.
If you're still reading, my guess is that you're probably pretty desperate to figure out which direction to go in. You probably broke your former bae going for a grounder around the crease. No worries, broski. I'm here for you.
Picking a new shaft can sometimes be confusing. It depends on your position, your height and your preferences. Attackers and offensive midfielders typically use shorter and lighter shafts. It allows them the freedom for more agile, aggressive and deliberate movement (around 30" in length). Defensive players and defensive midfielders use more durable and longer shafts. Think of a defensive shaft as an extension of their arm: it allows for a longer reach, to throw harder checks and maybe block a shot if you're lucky (around 60" in length). If you're a goalie, there's also a shaft for you. Your shaft's length should be between an attacker and defenders. You'll need a reach, but you'll also need agility (around 40" in length). In addition to position and length, there are also certain types of shafts. Although there are about five different types to choose from, composite and alloy are the typical go-to. Let's break it down to the facts: Composite vs. Alloy.
| | | |
| --- | --- | --- |
| | Composite | Alloy |
| What They're Made Of | High Grade Carbon Fiber | Metals (C405, Vandium, etc). |
| Heavy or Light? | Heavier (feel and control) | Lightest (feel and weight) |
| Grip Tape? | Definitely not: Smooth, natural feel | Definitely. Some brands are starting to construct their shafts with built-in grips but it's still a work in progress. |
| Pros | Naturally solid grip. Warm in cold weather. Cool in warm weather. Strong, but lightweight. Geared toward more intermediate to advanced players. | Strength. Light. Versatile. Affordable. Geared toward younger, developing players. |
| Cons | More expensive. Constructed with the offensive player in mind. | Can't take too much stress. Always cold or always hot. No natural grip pattern. |
Personally, I'm a huge fan of the composite because when coach has you running suicides in 13-degree weather with your stick and rock still in hand, I'm able to feel my fingers. But hey, I'm not here to tell you what you should and shouldn't do; that's what your coach is for.
If you're still not sure which direction to go in, here are some suggestions. Go and test them out.
Composite best sellers: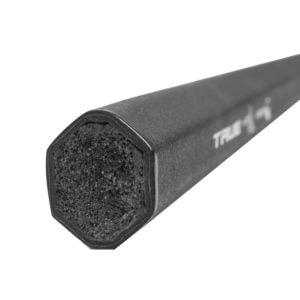 Alloy best sellers: