With more than half of men's division 1 lacrosse teams competing within the last week, Two of the biggest games that caught my attention were Lehigh at Jacksonville and Monmouth at Villanova. Both games included relatively new programs and both were very exciting games.!
The Lehigh University Mountain Hawks traveled from Bethlehem, Pa down to Jacksonville, Fl over the weekend for a nailbiter against the Dolphins. Coach Kevin Cassese lead the Mountain Hawks to a one goal victory over Joey Galloway's Dolphins 13-12.  The first quarter saw  five goals for each team, the second quarter went to Lehigh with a one goal advantage. In the third, Lehigh netted 3 more while Jacksonville was only able to snag one. The final quarter proved to be too little, too late for Jacksonville; scoring 5 to Lehigh's 3. Despite the 3 goal effort from Sophomore Will Hendirck, The dolphins deficit was just too much to come back from and the Mountain Hawks flew back to Pennsylvania with a narrow victory.

In The 4 years that Monmouth University has had a men's lacrosse team, they have never beaten a ranked opponent. Things changed this past weekend when the Hawks got that first win over theNo 16 ranked Villanova Wildcats. The hosting Wildcats got out to an early lead in the first quarter; putting up four goals while holding MU to only two. However the Hawks retaliated in the second by putting up two and holding the 'cats to one. The third quarter was a close one, each team scoring two goals each. The final quarter saw five goals from four different scorers while 'Nova netted three themselves. Everything pointed to a Villanova win, They had more shots, more GBs, more faceoff wins, and a better clearing percentage. But sloppy play lead to  13 Wildcat turnovers and Goaltending seemed to be the deciding factor. Monmouth goalie Nick Hreshko made 15 saves while Dan Willis only made six for the Wildcats.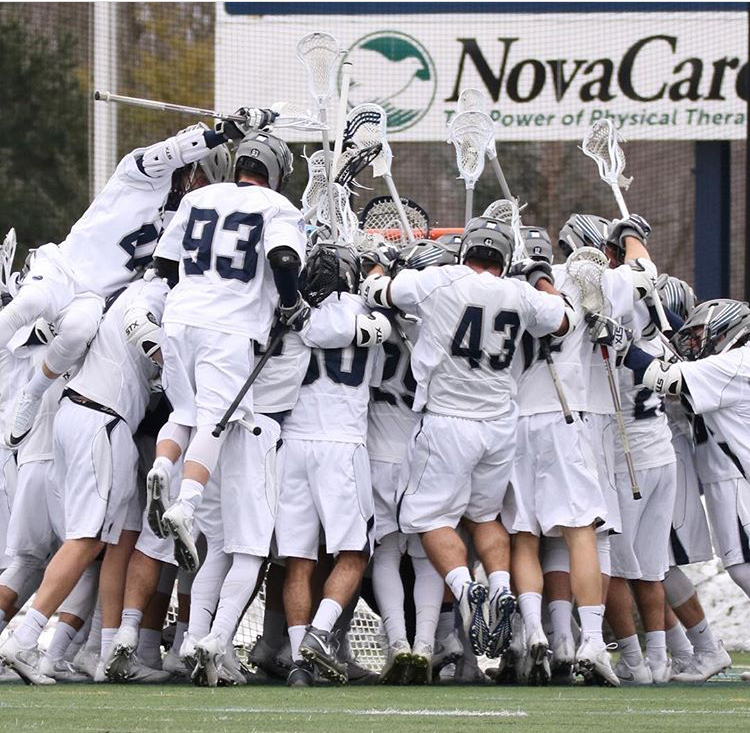 College lacrosse is arguably more enjoyable and entertaining than professional lacrosse (for the moment). Todays game is more competitive than it was even just five years ago. I think there are a lot of good teams this year rather than a few extraordinary teams like there have been in the past, This just shows the growth of the sport and for anyone who plays or has played before, you love to see that. I'll keep my eyes open all season for good games to recap. Keep checking back on Universallacrosse.com