Kieran Mcardle (who you should already know by now) is a lacrosse superstar. With a recorded setting career at St. Johns University, Kieran Mcardle became a key player for the MLL's Florida Launch in his 2014 rookie season. Being awarded the MLL's 2014 rookie of the year award with record setting points, we were honored to have him
share his review on the new Warrior Evo Collection. Here is what he had to say:
" First off I would like say what an honor it is to be sponsored by such a reputable company that Warrior Lacrosse is. Their Products have been nothing but great to me and I couldn't be more excited to represent the new Warrior Evo Collection."
" These Gloves are great! Probably one of the most comfortable gloves I warn to this day. They are the perfect mixture of comfort, protection, and feel. Try them out!"
"Great Flexibility! Every year Warrior steps up their game in providing light, comfortable, and protective arm pads. I feel a nice sense of security with these protecting my arms."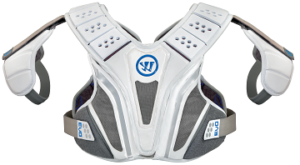 "When ever I would look for shoulder pads, I wanted the lightest pad with no bulk and the most protection, and it wasn't always easy to find. With Warriors advancing pad technology, they have delivered exactly what I need with these shoulder pads."
" Light Weight! The new Warrior Evo 4 is one of my favorite Evos to this day. The pinch is perfect and with the lightweight Evo feel combined with Universal Lacrosse custom stringing, you can't beat it! I highly recommend it!"
" The New Warrior Evo Collection is great, everything is durable, comfortable and extremely light in weight. I highly recommend the whole line as it really accommodates the players in this evolving game of Lacrosse. Go try it out!"
"Go Warrior! IT'S ALL U!"
- Kieran Mcardle