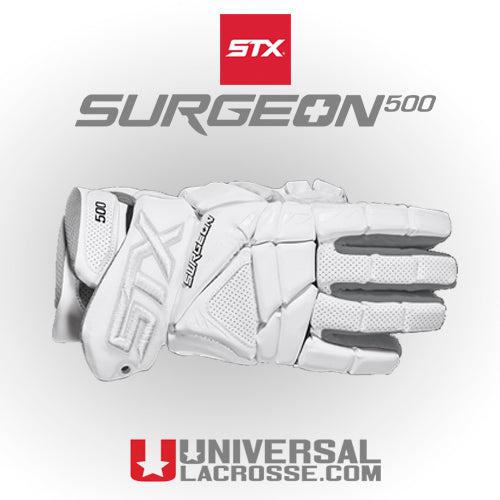 In the week prior to the MLL All Star game, STX began post teaser images for what was later announced to be the New STX Surgeon 500 Lacrosse Gloves.  These images were very vague with much of the picture cut off or blurred out.
The pictures left everyone wanting more and curious as to what was in store for these new mitts.
The first image gave us a glimpse of the patent pending ISO Thumb technology. It improves the feel on the stick and reduces the resistance when rotating your thumb 360°.
When a full picture of these  sweet gloves finally came out we got a better look as to what they will provide.  These bad boys seemed to be very flexible but have an improved protection compared to the Cell 3 or the Stallion gloves.
Decked out in custom MLL All Star colors, the Surgeon 500 Gloves looked absolutely amazing.  I can only imagine what some top D1 teams are going to create with this exciting new piece of equipment.
The guys over at STX have been working hard on hand protection, coming out with top of the line gloves on a consistent basis. The New Surgeon 500 gloves continue this streak and will attract a lot of attention from the lacrosse community.
STX boasts the palm on this glove, for it features a seamless construction design, creating great feel and feedback. In addition, it is made of Ax Suede for comfort and durability.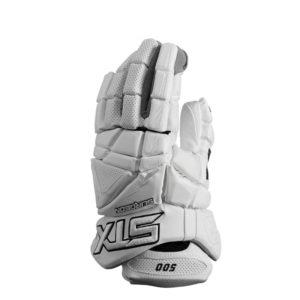 At Universal Lacrosse we were able to try out a custom Boston Cannon's version of this glove and we were impressed on all fronts to say the least. The new Surgeon 500 gloves are light, comfortable, and very flexible.  They feel less bulky and more flexible than any glove I have worn, and that is before I've gotten a chance to break them in properly! Between the Ax Suede palms, Iso Thumb, and all the other benefits on these gloves, the Surgeon 500s are easily one of the best gloves ever made.
CLICK HERE to Pre-Order your pair of STX Surgeon 500 Lacrosse Gloves!!  Orders shipping October 19th!
IT'S ALL U