Brine has been making women's lacrosse sticks for as long as I can remember and I'm pretty sure my first stick was in fact a Brine. It had all leathers in it, super flat scoop, thick sidewalls (that I swear looked like a boys stick) and it weighed a ton.
Needless to say, Brine has done an amazing job of using their new TruOffset and Core-Tech technologies to turn their women's sticks from old school to new school. Two of their greatest sticks to be released in the past few years are the Mantra 3 and the Dynasty Elite.
The Mantra 3 is one of the greatest midfield sticks on the market. It has a rounded ball stop area which provides ultimate ball retention (the ball won't pop out while cradling in the pocket). The new Mirror-Tech creates symmetry in the sidewalls rails, reducing thickness and maintaining strength. The Mantra 3 has the maximum TruOffset-which increases ball control and power when passing and shooting. The scoop on the top has a nice curve to it that allows for super easy ground ball pick-ups on the run.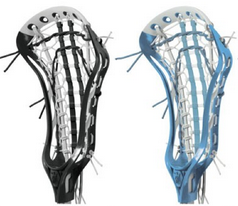 The Dynasty Elite has a bit more of a pinch to the head-which allows for less ball rattling as well as more precise passes and shots when the ball is released. This head is one of the lightest on the market because Brine has crossed over it's Core-Tech technology from the men's side to the women's. They have basically hollowed the sidewalls to create less weight but without compromising strength. The bottom rail string holes create the perfect pocket and channel. The Dynasty Elite is for the elite attack and midfield players.
Both of these sticks are a great example of how far Brine has come since I started playing and I can't wait to see what else they come out with in the next few years to truly show they are one of the best lacrosse manufacturers in the biz!